Constructors is seeking dedicated and highly motivated individuals to join our growing team in a variety of positions. At Constructors, our most valued asset is our team. We offer growth and advancement opportunities with every position, along with competitive wages, continued training and a strong benefits package. We at Constructors take great pride in having a drug free organization and a safety-first mentality when it comes to our work environment.
Constructors is an Equal Employment Opportunity Employer.
Constructors is a
NEBCO, Inc.
Company.  Follow the button below to view a listing of positions available within the company.
Diversity is important to the Constructors' team and family. We employ a wide range of individuals with varying backgrounds and ethnicities, all working together under a strong code of ethics and values. Team dynamics are very important to us, as we want you to excel in and outside of the work place. If you have a strong work ethic, enjoy working in a dynamic team and have a strong sense of pride, then Constructors is the perfect fit for you.
At Constructors, our goal is to provide you with the knowledge, tools, training and technology to become successful. Whether you're just starting at Constructors through our internship program, or you're a team leader with 20+ years with the company; we are always offering you training and advancement opportunities in areas that you excel in and take pride in.
The safety our of team, subcontractors, and area we work in is of utmost importance to everyone at Constructors. Safety gear is always provided, and routine and continuing educational and training classes and seminars are always given and often required. This allows our team to stay sharp and improve awareness in any construction environment or project.
Constructors additionally offers a Safety & Wellbeing Program. Points are gained upon completion of various offered safety and wellbeing classes and activities. Once you've reached a specified number of points; reduced health insurance premiums become available.
Constructors, Inc. is an Equal Opportunity Employer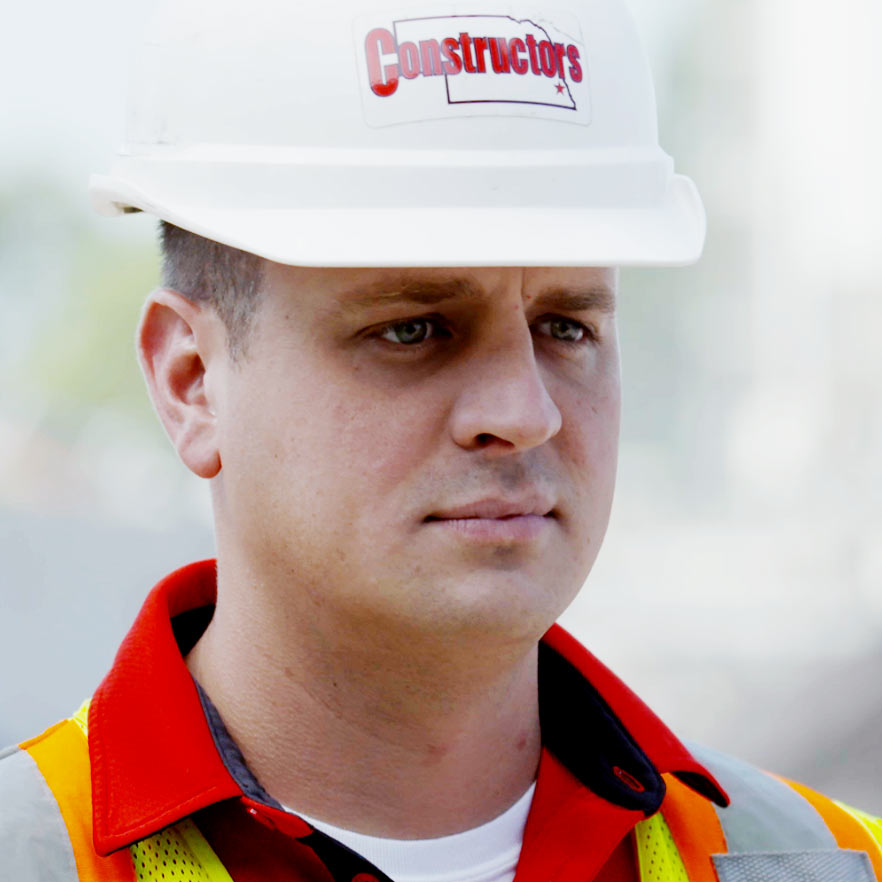 "

I started with the company working as an intern at Constructors' testing different aggregates and compounds. After receiving my Masters Degree in Engineering from the University of Nebraska-Lincoln I moved up to Project Manager and have loved it ever since…
COLLEGE INTERNSHIP PROGRAMS
Our internship program allows students to gain real-world experience and tackle the same responsibilities as our full-time team members and leaders. You'll learn directly from our great team of experts in the field, expand your knowledge, be faced with rewarding challenges and make major contributions to a variety of growing projects. Whether you're a freshman just getting started in your college program, or a senior about to graduate; we have opportunities for interns at any education level. As you advance through college, you'll also advance through the Constructors' internship program. Each year you'll gain more experience, work on larger projects, and work with larger teams of talented individuals. The Constructors' hands-on approach to training and learning will prepare you for a successful career at Constructors after you graduate.
Members of our team, including Project Managers, President and Vice Presidents, routinely tour colleges and meet with students currently enrolled in programs to learn of their future interests. Many of our Constructors' team joined the company as part time, seasonal help and interns. Upon graduation, they then were offered full time positions with the company and have stayed with us ever since.
We currently work with the University of Nebraska in Kearney, University of Nebraska-Lincoln, and University of Nebraska in Omaha. As well as Hastings, South Dakota School of Mines, South Dakota State, Central Community College and Southeast Community Colleges.